Ever since they were introduced to the world of marketing and consumer advertising, QR codes have been praised as a very convenient way to increase conversion rates by bringing the potential customer to the company website immediately. Moreover, they play an important role in more targeted product and loyalty marketing.
Despite this, we can also often find articles criticizing it. A simple Google search into QR codes will give you different claims that "QR codes are dead" for years now. But why is that? Is it the technology itself, or are businesses failing in using it the right way?
As the stats about its popularity and efficiency from the different markets in the world can significantly vary, the answer we seek is probably hiding in the latter.
For example, even though they're not that popular in the US, reports show that QR codes made up at least 1/3 of all mobile payments in China, which means QR were used in $1.65 trillion of transactions last year alone. This is mostly due to the popularity of the biggest social network in China, WeChat, which enables their users to transfer payments via QR codes. This turned out to be a big thing both for the company and for digital marketing and payment transactions in China.
QR payment modes are big in Southeast Asia as well. For example, the Bank of Thailand has approved plans by five commercial banks to introduce QR code payment transaction services. This was recently put on trial at Bangkok's Chatuchak market, where service providers such as taxi companies are accepting cashless payment through QR codes.
QR codes development in 2018
This proves that QR codes are, in fact still in use today, and even becoming more popular. To back this up with some facts, let's take a look at some of the most recent developments in the field:
Technology giant Apple has recently released a native QR code reader in the new iOS 11 camera app. This means users are now able to scan and interact with QR codes without downloading a separate app. Considering the fact how popular Apple smartphones are, there is no need to say that QR codes are becoming big again. The feature was probably added to attract more Chinese consumers (most likely those WeChat users) but it could really change a lot for Western marketers as well.
Blockchain technologies are also getting huge these days, and every business that accepts payment in bitcoin is using a QR code. The QR technology proved to be a great way to accept mobile payment in most popular cryptocurrencies and people are loving it!
Some of the biggest brands in the world are regularly (and very successfully) using QR codes in their marketing strategies across the world such as Nestle, Coca-Cola, Starbucks, Taco Bell, McDonald's, Tesco, Guinness…
Also, in 2017 Pinterest introduced its take on QR Codes, Pincode, which brings mobile device users directly to products, boards or profiles on Pinterest. When a user comes across a Pincode, all they have to do is to open the app camera and hold it up to scan. This option can take them to individual boards or send them right to the user profile.
The latest news on the QR front is that Facebook now also offers a new QR code option for pages, including posters which you can use to promote your page. Page managers can choose a code that automatically likes the page on the user's behalf, checks into your location, connects to "View Offers" and more.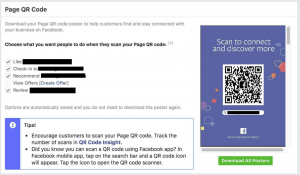 Instagram is currently testing its Nametage codes, Snapchat has Snapcodes, Messenger has Messenger Codes and Twitter also has their codes available via user's account settings.
So, why are people (and businesses) constantly disputing QR codes? Well, to be honest, QR codes do have some major drawbacks:
#QR Code Reader as a must
So far, this has been the biggest downside to using QR codes. The fact that users still have to download the QR reader limits the number of people who can access the code. Although this has now changed for iOS 11 smartphone users, for the Android users things remained the same – you still need an app!
#Scanning can take a long time
As users first have to launch their reader, scan the code and wait for it to take them to your offer, this process can be time-consuming and less convenient than direct links to your website, landing page or a discount you may have in place.
#Businesses are not using it the right way
As every other marketing tool, QR codes have to be used properly. They can be a valuable sales boosting tool but only if understood well:
Place them where they can be scanned properly, on digital and print materials, not in TV commercials where they're flashed only for a few seconds. Materials should be available at places with good Wi-Fi connections so that potential customers can reach your offers instantly.
Make sure that linked offers are mobile optimized. QR codes will be scanned on a mobile device. If the place it takes them isn't mobile-optimized, the entire endeavor is pointless.
Make sure your content is updated and that all links work properly. If not, you will lose more than a prospect customer, you will make your business itself look outdated.

QR codes and marketing campaigns

Once a QR code is scanned the encoded information can be used to automatically trigger a range of actions on the user's device. This provides multiple benefits for mobile marketers. So, let's take a look at the biggest advantages of using QR codes in your marketing strategies:

It's easily trackable

Everything scanned by QR codes provides trackable data. This offers you the possibility to understand your customer needs, but also helps you improve the experience they have with your brand. Every QR code is unique and, for example, if it is available to a customer in multiple places, you can see which of these location attracts the most traffic.

QR code can lead to multiple, highly targeted offers

QR codes can direct your prospects and current customers to numerous highly targeted offers you may have, such as subscribe options, sweepstakes, direct smartphone purchases, coupons and discounts, FAQ sections, store locating maps and more. A targeted offer saves your customers time, makes a positive impression and actually leads to more purchases.

For example, after learning that customers wanted to know more about their food, McDonald's used QR Codes on their packaging to share nutritional information on the hamburgers.

This campaign was part of the company efforts to prove that they are giving their customers more healthy and balanced food. The QR codes were a way to bring this information to the consumer easily and conveniently.

Creative placement opportunities increase the visibility of your brand

As already said, QR codes can be displayed digitally but also on paper, which leaves you with numerous options to display it. Restaurants are adding it to their menus and flyers, some business are including it on their greeting cards or even wrapping papers. Recently, in order to attract more customers, businesses have started launching QR codes in various shapes and colors.

For example, a new trend of including a company name and logo in the QR code proved to be a very effective strategy to attract more customers. Here are some examples:

Cost effective and customizable

QR codes are easily generated and provide a cost-effective way to segment your audience based on their location, their interests and number of purchases. They can be customized to fit your promotional items and save the space for the rest of the content you want to distribute. This is how you can keep your printed marketing costs low as well.

Increasing your customer database via emails, Likes and Follows

QR codes are also effectively used to get more subscribers to your emails and social media pages, but only by providing them with a compelling enough reason to subscribe, such as in this example by eat24hours who used a QR code to invite their customers to like their Facebook page and obtain their special "mobile menu".

You can also create QR codes which lead to a mobile-friendly landing page with Facebook Like buttons or lead them to your Twitter page for a quick Follow.

Wrap-Up

When used correctly, QR codes are an extremely effective tool to sell more to a growing number of smartphone users worldwide. On the other hand, if used the wrong way, they're nothing more than a waste of time and money. To get the most from including QR code into your marketing strategy, you need to make sure it is:

Mobile-friendly, meaning that the links they lead to are optimized for mobile phones both in terms of design and text copy
Relevant, meaning that the exact code leads to be a single, high targeted offer you have in place. Think about your offer and if the QR code is the right way to distribute it.
Distributed properly, both in terms of promotion materials it can be found in, and the location they can be found at. In short, give your customers a good Wi-Fi connection and enough time to scan it
https://blog.smoove.io/wp-content/uploads/2018/07/are-QR-codes-still-relevant-in-2018.jpg
656
1167
smoove
https://blog.smoove.io/wp-content/uploads/2017/02/logo.png
smoove
2018-07-16 16:09:48
2018-07-30 12:48:44
Are QR codes still relevant in 2018?