If you're looking for a way to attract, convert, and retain customers, marketing automation offers a seamless customer experience for mass audiences that can still feel personalized.
Like all marketing communication, the message should serve the customer's needs rather than cause distraction or irritation, which means there's a certain amount of information that's needed beforehand to properly address your target audience.
By using data, you can intimate customer knowledge, tailor the message to their needs, and include a personal touch even with automated content.
So, how do you do it right?
1. Segmentation: Split it Up
Working hand-in-hand with data, you can utilize marketing automation software to segment your database according to various preferences. Whether you choose to market to your customers based on their job title, demographic, age, behavioral data or the like, you can tailor your content for different audience segments. Smoove makes it easy to use data and CRM integration to segment your customers and create different campaigns for different lists.
In order to optimize your conversion rate, you can create different call-to-action buttons, sign-up forms, or even landing pages so that it feels as if you're talking directly to an individual rather than a mass audience.
Furthermore, marketing segmentation provides meaningful insight for brands that are looking to expand their product line and offerings. With smaller sample sizes, you can more easily understand customers' needs and pain points and properly address them.
By segmenting your market, you are increasing your ROI and a customer's ability to recall your brand because it feels as if the marketing message was made for them.
2. Dynamic Content: Always Changing
75% of marketers consider dynamic content a highly important marketing goal because of the time saved.
So, what is dynamic content?
Put simply, dynamic content is the HTML content on your website, forms, emails or landing pages that differ based on the viewer. While the most common type of dynamic content is addressing a viewer by their name, you can vary your business' locations based on where someone is accessing your site, your landing pages and forms can use progressive profiling and only request data that isn't currently held, or you can use different headlines and copy to sell to different people. You can even change content based on the weather!
Dynamic content is very useful for information-based content.
For example, when you make an online purchase, marketing automation is used to confirm the order and offer shipping details for the customer so that their questions are answered before they even have to ask.
With dynamic content, brands have begun to insert live tracking details into their automated emails so that the customer has one less step (or click) to track their package. To showcase how this work, Victoria's Secret's emails have live tracking details on all their shipments so customers know exactly where there product is.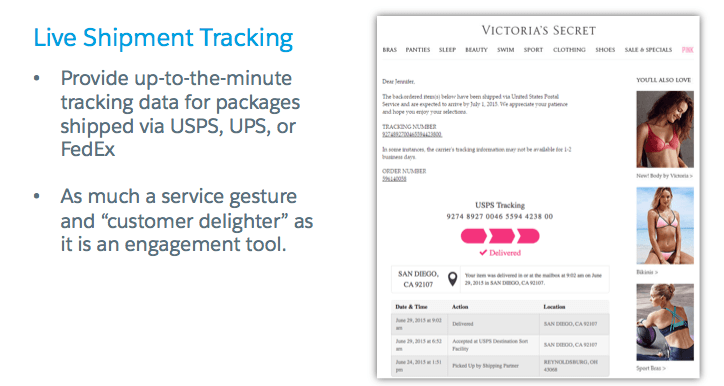 With dynamic content, you're using more than a person's details to market your message. Their surrounding, lifestyle and even the weather can influence what they see from your brand, which can create for a very intimate way to communicate with your customers.
3. Journey Mapping: Create a Path
Customer journey mapping is a good way to anticipate what your customer will need based on their personas. Just as creating a persona focuses on the person, a customer journey focuses on their experience, and with this tactic, you can see an overall snapshot of how a customer segment will behave.
By mapping out how a customer segment will navigate through your products and offerings, you can use marketing automation to serve their needs at different parts of the sales cycle.
Here are some easy ways to drive customers up the sales funnel with automation and personalization:
Begin with capturing a user's email address with a sign-up form for a newsletter
Then, you can personalize content via email marketing model to offer free services or products before they become a paid user.
Based on their interactions, you can create segments to offer different groups of products they've clicked on and upsell by explaining the different features of things they may not have known about. With their name, email and search history, you can get a sense of what they are interested in and send tailored content.
If you are a retailer, you can also automate personalized abandoned cart emails to remind customers to finish their transactions. This works the same way for users who created a sign up for a service, but never actually used it.
Once you establish a relationship, you want to do everything you can to retain your customers, so you can automate email reminders, social media posts and provide personalized offers to maintain their loyalty.
4. A/B Testing: Try it Out
You never have all the answers without trying out multiple options. Marketing automation can be trial-and-error, and with A/B testing you can simply see what works better with little additional effort.
For example, you can send triggered email messages with different subject lines, sender names or in different day parts to see which perform better. Based on the sample size that you choose, the winning content will be sent to the remainder of your list. Optimization is made easy when technology is involved. With Smoove's easy-to-use A/B testing module, setting up campaigns with different information your desired sample size can be done with the click of a button.
Additionally, you can test your dynamic content via different landing pages, sign up forms and call-to-actions.
Here's an example from Amazon that provides two versions of the same call-to-action to request a customer review, but in one example, they remove the extra step for the customer. By simplifying the process, they can optimize conversions as the customer has to do less work.

---
5. SMS Text: Personalize the Message
Given that 90% of business leads would rather receive a text message than a phone call, SMS text messaging is a vital part of your marketing strategy. But, in order to make it feel personalized and relevant, you can use marketing automation to stay in contact with your customer without being overwhelming.
Some examples of how you can implement SMS marketing automation to grow your customer relationship are:
Set up SMS birthday messages with gifts or special discounts
Create SMS text reminders for those who bought a ticket to attend an event and/or scheduled an appointment with your business
Use SMS chat support for technical problem-solving
Provide distinctive landing page links for target segments based on their customer journey and relevant needs
6. Wrap Up
When implemented properly, marketing automation can take your marketing strategy to the next level by strengthening your relationship with your customers and increasing your bottom line.
With the use of audience segmentation, dynamic content, customer journey mapping, A/B testing, and personalized SMS, marketing automation provides a large listing of opportunities to communicate with your database, no matter the size and no matter the time.
What kind of message do you wish you could send to a specific customer without having to think twice?
Marketing automation provides you the answers! Smoove paves the path.
https://blog.smoove.io/wp-content/uploads/2018/09/How-marketing-automation-can-help-you-personalize-your-marketing.jpg
656
1167
smoove
https://blog.smoove.io/wp-content/uploads/2017/02/logo.png
smoove
2018-10-25 15:41:32
2018-11-14 13:12:51
How marketing automation can help you personalize your marketing