In order to convert and engage their customers, SMB's need a new approach to marketing. One of the best ways to differentiate themselves from other similar companies in the market, businesses can begin by employing new community-centric and local business online marketing strategies to reach their customer at the right place and time.
All businesses share the same goal – to reach the customers in a way that motivates them to make a purchase. However, due to the crowded marketplace, we risk launching already seen campaigns, or those that are simply too generic.
Brands of all sizes benefit from local marketing
Local web marketing became a part of consumer's daily lives. For example, online search engines will share relevant, local results even when we're not specifically looking for products or a service provider near us. This is good enough of a reason for SMB's to capitalize on this, regardless of their real location.
Local marketing strategies help brands drive authentic engagement and reach target buyers in a specific area. Still, to design a successful campaign, brands need to determine a strategy that will work locally.
This is done by optimizing your online marketing efforts to help you drive more traffic and raise awareness of your brand in localized areas. Your strategy needs to be based on your customer location data, but also other parameters such as their buying habits (do they prefer online or offline sales channels?), and overall market data in the area you want to target.
Don't forget that local marketing campaigns will require local, customized communication and messaging, designed for a particular market.
One of the best, world known, local marketing campaigns are those executed by global restaurant chain McDonald's. Their localized food choices such as the Tofu McNugget in China, Koroko Burger in Japan or Le McWrap Chèvre in France enjoy great popularity among locals.
Also, McDonalds uses every opportunity to show that it purchases meat and vegetables from local farmers in a certain area which makes their customer feel closer to their brand, such as shown in this campaign poster.
Even though McDonald's is a globally known brand, almost 30% of its revenue comes from restaurants outside the US and big countries such as Australia, Canada, China, Japan, Germany, France and the UK. Paying special attention and employing local marketing strategies, McDonald's managed to stay on top of its customers' mind and significantly increase sales in those other countries as well.
For example, in Spain it even went a step further and introduced new packaging for a new menu item – gazpacho, a traditional tomato soup. Customers in Spain loved it and recognized the effort, even though it was probably not the best gazpacho they've ever tasted.
How to start with local business online marketing?
Now after we have seen how strong localized campaigns can be, it is also important to stress that all businesses can benefit from local marketing, big or small. By adapting your strategies, and also your products and services to a certain local community, you can build your brand and increase your sales much faster than before. But how to start with local marketing?
To integrate a localized strategy into your digital marketing campaigns, employ these three top hacks:
1. Localize (mobile) search
Customers have already adopted mobile as the primary way of accessing the Internet and almost one third of mobile searches today have local targets. This is exactly the reason why brands need to pay a special attention on building better connections with local buyers via their mobile phones.
Mobile phones are personal devices and people carry them wherever they go, so mobile advertising is the ideal way for businesses to provide customers with more personal and targeted offers that seem familiar and friendlier than the offers they see elsewhere. Mobile ads can lead customers directly to your website, your landing page and even your nearby store.
The most effective and most popular local mobile ads are those customers can run into while scrolling through social media such as Facebook or Instagram.
To get more customers into their stores, Jasper's Market created a special event ad on Facebook and invited local customers in San Francisco to a free cooking class. But what was so special about this ad? Well, along with uploading other photos in the ad, Jasper's market marketing team also decided to include a Google map of the stores which offer the class.

They also added an intriguing "Available at selected markets near you' so that customers actually click on the ad to find out where and when they can join the class.
2. Localize online search ads
Local search ads are one of the most reliable and cost effective ways to drive sales and leads with impressive results. Getting a global visibility for your brand is a very difficult task, but if you restrict it to a specific location, you will be able to get a better ROI without huge spending. Localized ads help you distribute local promotional offers and discounts, include more information such as your contact details, store distance and local product stock but also increase the visibility of your brand logo and company image.
In this location-based, targeted ad by British retailer Argos we can clearly see how the company included all the elements of good local marketing mentioned above. Their offer includes basic product information, details about the nearest store where products can be found in stock, a map and also another thing – how to buy the product online!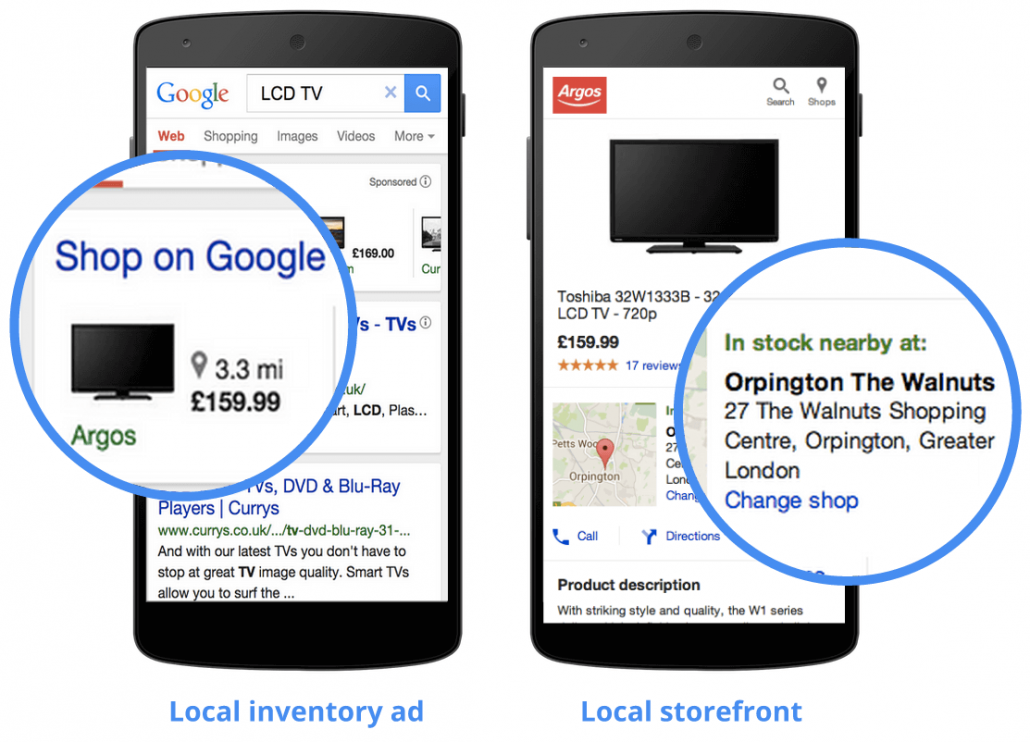 3. Localize newsletters
By segmenting your customer's database based on their location and purchase preferences, you can design highly personal, targeted newsletters. Another great thing is that, with the help of marketing automation, these newsletters can be sent automatically to your customer's inbox. This can save a lot of valuable time you can actually use to work more on the strategy and content of your targeted newsletters.
Content wise, these newsletters need to have a more local approach and offer something specific for the area you want to target, such as promotion of local events, flash-sales in nearby stores and customized articles related both to the products and the location of your campaign. For example, if you work for a company that sells hiking equipment and accessories, you can include a short description and link to an article or a blog post about best hiking locations in the area.
For example, a private education organization General Assembly does a great job with their locally targeted newsletters. In one of their newsletters (shown below) they targeted Boston-located professionals and let them know about upcoming events and courses they offer in the area.
A clear CTA in the first section reveals the main goal of the newsletter – to attract more visitors to their Design in Motion panel, but that's not all.
General Assembly's newsletter also contains other business news related to the Boston area and a list of other courses and educational activities their customers can engage in.
Wrap Up
Local marketing strategies enable businesses to drive authentic engagement and effectively reach target buyers in a specific area. Local marketing has been successfully employed by both big and small companies and today serves as one of the best ways to increase ROI regardless of your business location.
Still, in order to start targeting our customers locally, we need to excel in the following:
Localize mobile search and design creative and appealing ads with local offers which are hard to miss on
Localize online search ads and provide customers with necessary buying details and ideally – offer both online and offline ways of purchase
Segment our customer's database and localize marketing newsletters based on their location, interests and purchase history
https://blog.smoove.io/wp-content/uploads/2018/08/top-local-business-online-marketing-hacks.jpg
656
1167
smoove
https://blog.smoove.io/wp-content/uploads/2017/02/logo.png
smoove
2018-08-14 11:10:13
2018-08-14 11:42:51
Top local business online marketing hacks