In a saturated retail landscape, it quite literally pays to stand out and build strong relationships with your customers to develop and maintain customer loyalty. When your products and prices are on par with the rest of your competition, what tools can you use to set yourself apart?
1. Your Brand: It's A Story With Power
Your brand is your story. It's pivotal to find ways to tell your brand's story and share your mission so that customers can get on board with your unique selling proposition (USP) since shared values are the biggest driver of brand loyalty.
Brands that have good quality products and values that impact the world create change, retain customers, and secure their bottom line. For example, TOMS Shoes, founded by Blake Mycoskie, recognized that many people in South America were in dire need of shoes. By creating a product that resembled traditional shoes in Argentina, Blake also vowed to give back to the community by creating One-for-One, a program where for every pair of shoes purchased, a pair of shoes would be donated. So far, the company has donated more than 35 million pairs of shoes, and when they expanded their product line into coffee and sunglasses, they remained committed to their promise of giving back. For every bag of coffee that is purchased, TOMS provides one week of clean water to someone in need, and for every pair of glasses purchased, TOMS vows to help save a person's eyesight.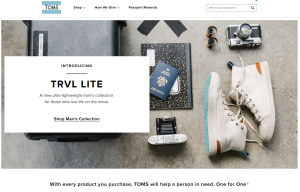 Source: Screenshot
The consistency within their brand of creating quality products and also caring about those in need has made TOMS more than a shoe company. While TOMS is a for-profit business, it has become synonymous with giving back. Their story has been told through PR, landing pages, social media, newsletters, and events, but they also make it clear by showcasing their mission on their packaging and on their product. By stating the One-for-One program on the physical shoebox and within the sole of the shoe, customers are reminded of their donation when they are in the store trying on the shoes (before purchase), and then, every time thereafter when they put their shoes on (promoting loyalty), and even after with the email marketing that TOMS sends with company updates (maintaining a relationship).
It's important to note that people can buy similar cloth shoes for much less money from other brands, but TOMS has been able to create a culture around their product. TOMS developed an annual event called One Day Without Shoes (ODWS) that went viral on social media, engaging about 3.5 million people in just one day. People walk around barefoot for a day to understand what it's like for those without access to shoes, and this further promotes the belief that by buying a pair of TOMS, they can play a part in changing a life. In turn, celebrities and TOMS customers create their own content that TOMS shares on the company website and social media, thereby using the culture to make every consumer a potential brand ambassador.
From this prime example, it's clear that if TOMS only believed in donating products, but didn't market that to the public, people wouldn't buy-in. Through the use of social media, experiential events, consumer-generated content, email marketing, strong packaging design, and the use of their landing pages, TOMS and One-for-One have become interchangeable. Learning from TOMS, you can employ similar tactics by creating interactive campaigns where your customers share photos of your product on social media to enable them to believe so much in the brand that it becomes part of their own personal story.
Although it's not always possible to establish this kind of business model, it is possible to create a mission statement that goes beyond just selling products and showcase it in your marketing before, during and after a sale.

2. Customer Communication: Let's Get Personal
"To meet their expectations, one approach which I believe will gain traction, is treating each and every email as a customer service email – whether it is a promotional email, a sales email or a transactional email." – Kath Pay

A good rule of thumb for any kind of communication is to know your audience. People are different, and therefore, they like to communicate differently. As technology gets smarter and more marketing tools become automated, communication needs to become more nuanced. People want to feel like the customer service and messaging they receive is meant only for them and therefore totally relevant. They also want to receive communication at the times that are right for them.
While speaking directly to your consumers in their respective segments is one of email marketing best practices, remaining culturally relevant and promoting your messaging in real-time further helps to engage your customers. Marketing automation tools can help you to get that timing and personal, contextual communications perfectly. An example of a company that does a great job of remaining culturally relevant, contextual and choosing the right time to speak to customers is outdoor sports gear retailer, REI.
Since messages that are highly contextualized are more likely to be opened, the retailer used one of the industry's largest shopping days, Black Friday, to promote their brand's mission. While most companies pushed their biggest sales and door-busting deals via email around this time, REI instead pushed people to #OptOutside and proceeded to shut all their stores on this retail frenzied day. The campaign connected to REI's mission rather than their products and allowed for customers to use the hashtag to share their own experiences through content. REI's chief creative officer Ben Steele said, "The ability to claim that moment and say, this is about our values and not about transactions, is still pretty differentiating."
REI has gone even further and created a search engine dedicated to the #OptOutside campaign that honors people who adventure and allows others to virtually explore. This tactic also allowed for partnerships with other brands. For example, REI partnered with Lyft to offer discounted rides for avid adventurers to spend their days outdoors instead of shopping inside a mall. Although this campaign seems somewhat counterintuitive to their bottom line, REI knows that by remaining true to their brand and being bigger than their product, they are incentivizing people to believe in what they stand for and they know their customer base will appreciate the message, especially in a time when the market is saturated with emails to get people to get inside and shop.
Here is a great clip that summarises this:

This shows how an idea can begin as an email campaign and ads and then spread to something bigger with landing pages, social media, an actual event and way of life. Additionally, it all comes down to really knowing your audience, which is where segmentation can help spread your message to the right people. The message you send is based on customer actions and their participation with your product, so you want to use automation tools to easily define and create lists to keep your audience organized.
3. Problems Are Inevitable: Be Prepared
People like it when things go right, but they are more bound to speak up when things go wrong; therefore, being proactive and solution-oriented is a surefire way to retain happy customers, even after they have an unhappy experience. Being prepared for the inevitable customer complaints or employee downfalls is a very pivotal step in maintaining customer loyalty.
Source: Pixabay
The first step to being able to satisfy a customer's need is to offer various options for communication. Customers should be able to call, email, SMS text, chat, or utilize social media about an issue and be served with a timely response. Having more touch points will help to quickly deescalate a frustrated customer from the get go.
Once communication has been established, be sure the companies' responders know to approach the situation with empathy and understanding. Then, they should be able to understand and listen to the problem, apologize for the issue, offer solutions, and follow-up after the complaint has been resolved to make sure the customer knows that having them as a customer is not taken for granted. Of course, monetary compensation for mix-ups is appreciated, but customers also value apologies. One study showed that customers who got compensation without an apology were 37% satisfied, but when an apology was added to the compensation, the satisfaction rate doubled to 74%.
An easy way to make sure there is follow-up after the complaint has been resolved is to use email automation. You can create batches of customers with similar complaints and use auto-sequence emails to check in to see if there is anything else that the customer needs or wants to share with your company. Going further, you can segment your customers based on if they are at-risk (if they've made complaints in the past). Then, you can send offers and resources directly to those who may churn to try to prevent them from leaving. In the same manner, your customers who are the most loyal and consistent in buying your products can be categorized into a VIP list where offers and incentives are tailored to them, thereby letting them know how much you value their business.
Another tactful way to resolve issues is to set up a landing page specifically for troubleshooting so that customers can search forums, chat with support, and try to resolve their issues on their own time. A great example of customer support that uses a landing page and offers multiple touch points is Apple. Not only is the Genius Bar in physical Apple store locations filled with helpful and friendly employees, but Apple also extends this customer relationship online, and in a business like retail/technology where troubleshooting is frequent, creating an easy user experience on their website means customers have support wherever they may be.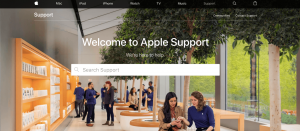 Source: Screenshot
4. Post-Purchase: Maintain a Relationship
It's critical to continue the customer experience and engagement after a customer makes a purchase from your business. According to a Harvard Business Review study, there is an "experience gap" from the time of purchase until the item arrives, and only 16% of companies focus on retention. Therefore, if you can successfully close this gap, you are dramatically increasing the odds to invite customer loyalty, satisfaction, and profit. Existing customers are 60-70% more likely to buy again than new clients, who do so at a rate of 5-20%.
Initially, by using automated emails for first purchase follow ups, you create a way to keep your business in the top of the customer's mind as they await their product's arrival. At the same time, you can offer discounts for their next purchase, or even throw in a referral benefit for them to invite a friend and benefit from sharing.
Another idea is to send emails to your customers who fit a certain criteria, either based on the amount of times they've purchased in a given time period or a dollar amount that they've surpassed. This is especially important if they haven't purchased for a while, say 3-6 months, because you can incentivize them to come back with offers (bounceback) and/or feedback (engages the customer and helps you do better next time to retain others).
Nordstrom is a retailer who understand the post-purchase engagement with its customers very well. When an order is purchased, not only will a receipt immediately pop into the buyer's email, but the buyer also gets updates once the order has shipped and been delivered, all with easily accessible tracking information. Furthermore, the email has all the purchased items laid out next to a customer support blurb, allowing customers to call, email or live chat a support representative should they have any needs. Lastly, at the bottom of the email, Nordstrom includes an upsell option, with links and photos to additional items the customer may like based on their order history. All in one email, Nordstrom is answering the customer's question on when they can expect their order, providing the details with costs for the customer's records, offering additional support, and showcasing more products to persuade another purchase.
Source: Pexels
By using triggers, rules and workflows, companies can use marketing automation to make the post-purchase customer experience drive customer loyalty just like Nordstrom.
WRAP UP
Customers value quality, price, speed, convenience and care. When you're in a highly competitive environment based on similar price points and comparative quality, you can effectively maintain customer loyalty by setting yourself apart with your customer service and communication efforts.
Using newsletters and email marketing to keep your customers informed about your company's social efforts, product line announcements, news, and order information are crucial ways to remain relevant in their mind. When customers feel like they can easily reach out to your company through various touch points with consistency and transparency, you can continue to build a strong and loyal relationship before, during and after the purchase has been made.
By using segmentation to address customers personally, you can ensure that individual buyers feel important and taken care of even when your customer lists are massive. In the nearly guaranteed event of a mishap, you want to be sure you're prepared in advance to handle any situation so that you can efficiently change a customer's experience from negative to positive to maintain their support of your brand. The use of social media has allowed for more intimate conversations between customers and companies, so being able to manage communication on that front is pivotal in sharing your brand's story and connecting with customers locally and globally.
Loyalty grows as a practice of providing quality customer care and both meeting and exceeding expectations. As author and business strategist Jeffrey Gitomer has said, "You don't earn loyalty in a day. You earn loyalty day-by-day." If you were to begin today, what's the one tactic that you can employ that will help you continue on the path of establishing customer loyalty?

https://blog.smoove.io/wp-content/uploads/2018/05/How-to-maintain-customer-loyalty.jpg
1313
2333
smoove
https://blog.smoove.io/wp-content/uploads/2017/02/logo.png
smoove
2018-05-17 18:08:34
2018-08-22 10:56:43
How to Maintain Customer Loyalty in a Competitive Landscape