Are you wondering how to attract more visitors, and more importantly, how to turn them into your customers?
If that's the case, the tool you've been looking for is the landing page. Essentially a web page, it has a sole purpose of capturing a visitor's information through a lead form. This is done by offering them something useful and valuable such as product sample, discount, consult, trial or any product or service you're selling, in return for contact information.
To create a top-notch landing page for your small business you need to stay focused on a single objective that matches the ad your visitors clicked on to reach your page. A product or service-specific landing page will help you get more subscribers, so don't hesitate to create multiple landing pages for multiple goals you may have!
The good news is that businesses nowadays can design and publish landing pages themselves via a simple landing page builder and save both money and time usually spent on hiring professionals.
smoove's landing page builder is simple, smart, and effective tool designed to advance your marketing campaigns and capture your visitor's contact information easier than ever.
How does it work?
Small business owners love building landing pages with smoove as it doesn't require them to be experts either in design or in digital marketing. It is specially designed for people who need a simple and fast tool to support and execute their marketing campaigns.
smoove enables you to simply design your landing page by using its modular template system, add a registration form and define which list of the subscribers it will be directed to.
Its core features such as drag-and-drop interface, simple web forms, pre-designed templates and numerous smart hacks (such as CTA buttons, social media buttons and more), make your landing page simple, effective and most importantly – easy to build.
Customize your pages for your audience
Every online ad you create should provide a landing page focused on a single offer. Knowing this, you should drive your customers attention by providing them with tailored content and a compelling form that is both simple and effective.
smoove's simple drag and drop interface offers all this and contains smart blocks with pre-designed boxes for new paragraphs, titles, images, articles and web forms.
Along with forms, bullets and menus, its interface also has smart blocks for CTA buttons, social media buttons and YouTube videos which can make your landing page look like it was done by a professional! You can also manually change size, style and colors of other elements of your landing page in seconds.
All of these elements are easily added, customized and removed and you will be surprised how much time you can actually save. Your only job is to copy your contacts and your content and let smoove do the rest.
Designing your landing page
You should always keep your users focused on a single objective on your landing page by removing all the elements that could drive them away from its primary purpose. Distractions can reduce the conversion rates, so you should always declutter your landing page by dismissing all the unnecessary links, ads and buttons.
Along with colors and fonts that match your ad and/or your website, your landing page has to have visible and compelling headlines, visible CTA and simple forms where your customers can leave their contact info. This task can be time consuming and complicated, so many small business owners are opting for online templates which can guarantee a success of your campaign.
The landing page can also be created in full screen which can have a strong impact creating wow effect for visitors.
smoove's landing page builder also has a bunch of ready to use, beautifully designed templates that will give your landing page a professional look. This way you will not only set up your landing page in minutes, you will also have a strategically designed and ready-to-go tool to support you marketing campaign right away!
Simple web forms and Clear CTA buttons
smoove's landing page builder offers different web forms and buttons that are customizable and easy to use. Smart web forms enable you to obtain the exact information you need from your landing page visitors and make the conversion easy and effective.
smoove enables you to change the size, layouts and number of fields in a form and customize the text in your forms and buttons.
If you want to convert your leads and bring them to your website, you need to make sure that your Call-To-Action (CTA) button is clearly visible and compelling to click. With smoove's drag and drop interface this is faster than ever. Just drag and drop the button box to your landing page template, customize it with a compelling headline such as "Get your free sample now" and get those new subscribers.
More Relevant Content
smoove's smart functionality enables you to include more relevant content in your landing page and gives your business instant credibility.
Use features such as smart links in your buttons  as a multifunctional trigger. With the "smart link" option you can use actions such as adding a visitor to a defined list, add or replace a certain data related to a contact and more. With these actions, you can start or impact a visitors buyer's journey right away and always give them the most relevant content.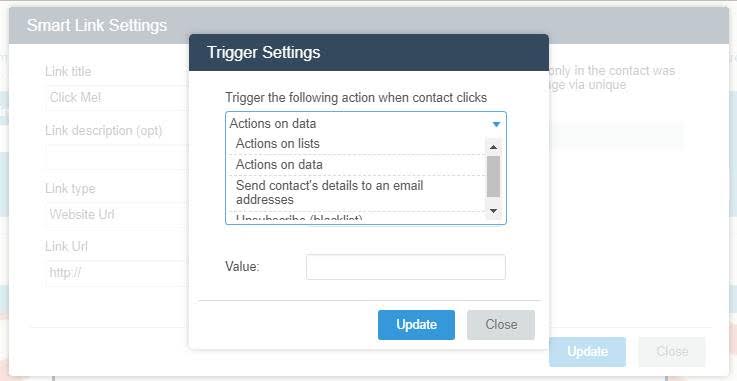 smoove also offers the possibility to connect several different landing pages and automatically create a "Thank you" page.
Or try smoove's countdown, where you can create an immediate CTA in case you wish to sign-up your customers to a specific event.
Also, you can mobile phone number to your landing page for an immediate reach-out, which is very effective in case you are running a mobile campaign. The great news is the Waze button works here as well.
Keeping Conversion at the front of mind
Personalized landing pages account for several times higher conversion rates. To put it in simply, the more relevant your landing page is to visitors, the more likely they are to convert.
Via smoove's advanced & automated text options and personalized fields module you're providing only relevant content on your landing page and keeping conversion the focus of everything you do. You can now personalize your content simply and easily, while smoove does the rest of the hard work for you.
The personalisation fields module will help you learn more about your customers and efficiently use the information they provide. You can add as many personalisation fields as you like, according to your needs, such as interests, special requests for preferred content choices.
Each field has its own "targeting" function and it can be shown only if it follows a certain rule. For example, the entire form below would only be shown if a customer meets a certain criteria (based on a data he previously filled out on a landing page). This means customers will never feel they are getting the same thing twice and will be more likely to convert.
Don't worry, it's mobile friendly
With smoove you can be sure that the content and design of your landing page is always displayed properly across different devices. smoove's landing pages tool creates mobile responsive pages that look equally great on mobile devices and tablets so you can reach your customers on the move.
Maximise performance of all your other tools with smoove's Integrations
When a new client registers on a landing page that you have created through your smoove account, his/her details are automatically stored in a dedicated list on the system, but not in your CRM. To resolve this issue, smoove offers two options for integrating your smoove account users info with other systems you may have.
At the landing page management panel, you can find the option "Advanced" which will lead you to different option to maximize/optimize your overall campaign performance.
One of the options offered is "External data transmission url" through which you can define to send a contact to an external platform using a little coding. This option enables you to integrate and define the transmission of contacts registered to your page to an external system such as your CRM or other systems.
To make things easier for its users, smoove also implemented a block named Zapier inside its system which allows the integration of any of your other systems and apps into any automatic process that you may create.
With Zapier you define an automated processes to easily send contacts/leads to external CRM tools. To enable this option, you should also have an account with Zapier.
Wrap-up
smoove's marketing automation platform is specially designed for small business owners who need an easy-to-use system to create and support their marketing campaigns. One of its core features, smart landing page builder, enables you to personalize your marketing campaigns, maximize conversions and establish a strong relationship with your customers.
smoove's landing page builder is simple to use due to its drag and drop interface, pre-designed templates and smart hacks which will help you set up you landing page in minutes.
Sign up today and start building your landing pages with smoove.
 


https://blog.smoove.io/wp-content/uploads/2018/04/How-to-create-a-landing-page-from-scratch-using-smoove-1.jpg
656
1167
smoove
https://blog.smoove.io/wp-content/uploads/2017/02/logo.png
smoove
2018-04-12 15:33:42
2018-11-14 22:20:04
How to Create a Landing Page from Scratch Using smoove